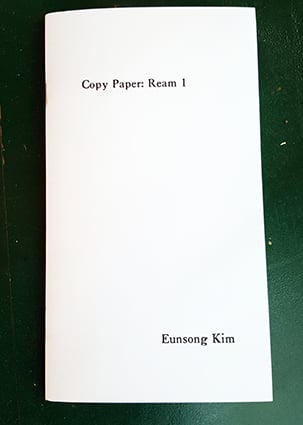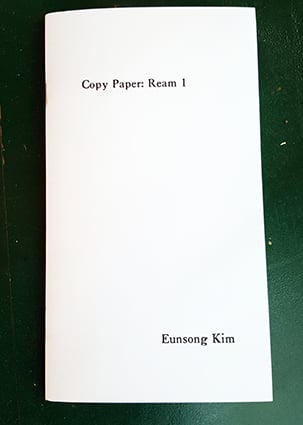 Copy Paper: Ream 1 by Eunsong Kim
$5.00
Here at Quaint, we're enormously privileged to be able to offer a VERY limited number of Eunsong Kim's sold-out pamphlet/chapbook "Copy Paper: Ream 1."
Published by Flying Object Press, "Copy Paper" is a disquieting lyric narrative that follows an actress who slowly begins to understand that what is expected of her does not cease when the stage lights fade and the camera is shut off. Grappling with issues of control, containment, homogenization, and the dangling carrot of freedom and autonomy, "Copy Paper" is an expertly crafted book that will leave the reader profoundly unsettled--yet somehow, still hopeful.
We have 19 copies of Eunsong's book available--we had 20, but it was so good we had to keep one for ourselves. Hurry before they disappear!
--
Eunsong Kim is a writer and educator residing in Southern California. Her poetry and writings on contemporary culture have appeared or will be forthcoming in Minnesota Review, Interim, Coconut Magazine, Iowa Review, Seattle Review, Tinfish, Denver Quarterly, AAWW's The Margin, The New Inquiry, Model View Culture amongst others.